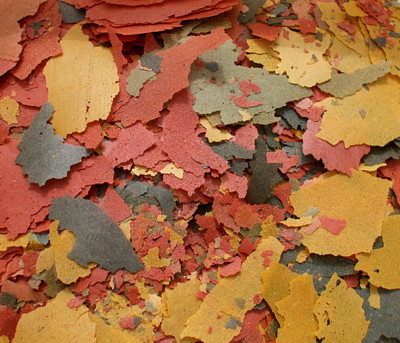 This is NOT King British, Aquarian or any other brand name flake sold in retailers. We do not 'split' buckets from any mainline manufacturers.
We firmly believe you get what you pay for but this flake is high quality which we buy in bulk (hundreds of kilo's at each order) from the manufacturer & can offer a great price to our customers.
We have literally sold hundreds of kilo's of this since we started to make it available. Continues to be a best seller.
Blends may change & the above photo may differ from that currently used.
Standard Tropical Flake
NOT made in China

We offer this to our customers at a crazy low price. This flake is made in Holland. We have been using this for many years on our own fish. We daily crush this in a mortar/pestle with other flakes such as German made Spirulina flake for livebearers. These grow well on this.
We were amazed to talk to one of our customers at an auction who said his fish refused to take Tetra flake but cleaned up all of our standard flake.
We have sold many kilo's of this flake. It's back on our list again with an improved formula. We have re-packaging rights on this food. It is NOT a mainstream manufacturers tub broken down. Suitable for daily feedings.
Analytical constituents: Protein 49%, Fat 7%, Fibre 2%, Ash 7%, Phosphorus 1·4%.

Composition: Fish meal, soya dehulled, yeast, wheat, fish oil, premix. Vitamin A - 25,000 IE/kg - Vitamin D3 - 1,500 IE/kg - Vitamin E - 100 mg/kg, Vitamin C (Stable) - 450 mg/kg
Made in the EC