Australian Black Worm (Lumbriculus variegatus)

Killifish breeders have long known the benefits of feeding these worms. They are not Tubifex or Bloodworm dressed up as a different thing but a totally unique food.
Now these are available with all the goodness locked in through the freeze drying process. Worms are harvested & dried at the farm for freshness.
Due to demand & production shortages
We are only getting a trickle in supply at this time but this is slowly increasing to a point we can keep up with
our retail demand. Trade orders are still being rationed for the time being.
Australian Blackworm have increased their prices (May 2019) & we have had to pass this increase on to customers.

| | |
| --- | --- |
| Original Cubes | Bio Cubes |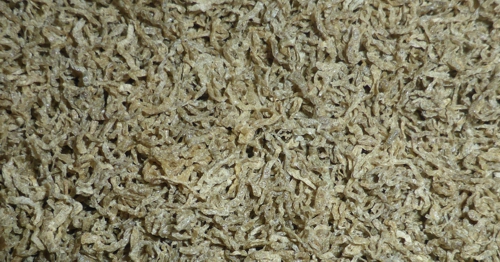 Original Loose
Protein 66·35%, Crude Fat 13·87%, Crude Fibre ·24%, Moisture 12%
Killie & Discus breeders have been raving about this food. Feed as it comes from the container for adults or crush it down into a powder for fry.
The high protein & fat content makes this a fantastic food to encourage growth.
The cubes will stick once pushed onto the inside of the tank front just like Tubifex cubes.
Give your community tank a treat...
We are selling a lot of these worms now & get in larger amounts at a slightly better price so we are passing this saving onto our customers.
Now available in original cubes, Bio cubes with natural colour enhancers & loose Bio.
Original Cubed
Just Blackworm - Nothing else added.

25g - Cubed - £11·45 - In container

100g - Cubed - £28·75 - Bagged

200g - Cubed - £55·50 - Bagged
Bio Cubed
Spinach, Spirulina Algae and Carophyll Pink are added to bring out the reds and oranges in your fish.

25g - Cubed - £12·50- In container

100g - Cubed - £32·50 - Bagged

200g - Cubed - £62·50 - Bagged
| | |
| --- | --- |
| Original Loose (Just Blackworm without anything else) | |
| 25g - Loose - £11·45 - In container | |
| 100g - Loose - £28·75 - Bagged | |
| 200g - Loose - £55·50 - Bagged | |

Australian Blackworm Granule
Made with 20% Australian Blackworm, fish & fish derivatives, Molluscs & Crustaceans, Minerals, Vegetables & Vitamins.
Crude Protein 40%, Crude Fat 5%, Crude Fibre 1·1%, Moisture 3%.
Granule size 1·5 - 2mm.
Packed in resealable silver foil packs.
Introductory Prices

| | |
| --- | --- |
| 50g - £7·25 | 100g - £14·25 |
| 1 kg - £125 | |
Dried Krill - pacifica

This is a smaller Krill species at 1-2 cm. Feed whole or can easily be crushed.
Rich in carotene.

Composition: Freeze Dried Krill Pacifica

Analytical Constituents: Crude Protein 57%, Crude Fats & Oils 7%,
Crude Fibre 4%, Crude Ash 13%

25g - £5·75
Dried Krill - superba

A larger Krill species at 2-3 cm. Ideal for larger fish or can be easily crushed for smaller fish.
Rich in carotene.

Composition: Freeze Dried Krill superba

Analytical Constituents: Crude Protein 57%, Crude Fats & Oils 7%,
Crude Fibre 4%, Crude Ash 13%

25g - £5·75
Dried Daphnia

Our new supplier is sending us some fantastic dried Daphnia.
Unlike the powder cheaper suppliers sell this is larger & as the photo shows is individual Daphnia dried whole.

45g - £3·95
Dried Bloodworm

We crush this in a mortar/pessle & make a paste up with a little water. This sinks straight to the bottom & is taken more readily. Also better for bottom feeders.

50g - £5·50
Silk Worm Pupae

High in protein. Promotes the production of the slime coating giving better protection to parasites & infections.
Ideal feed for outdoor coldwater fish. Feed only above 16°C.

Analytical Constituents: Crude Protein 53%, Crude Fats & Oils 26%, Crude Fibre 4%, Crude Ash 5%.

200g - £4
Freeze Dried Mysis Shrimp

Whole dried Mysis Shrimp.
High in protein. Rich in vitamins & minerals.
Ideal for freshwater & marine fish.

Composition: Whole dried Mysis Shrimp.

Analytical Constituents: Crude Protein 55%, Lipids 6%,
Crude Ash 7%, Minerals 6%.

56g - £9·95
Crystal Red River Shrimp

Whole shrimp dried from the Red River, China.
High quality product. High in protein.

Composition: Whole dried Shrimp.

Analytical Constituents: Crude Protein 60%, Lipids 8%,
Crude Ash 14%, Moisture 4·5%.

56g - £8·95
Freeze Dried Brine Shrimp Cubes

Natural Artemia freeze dried.

Analytical Constituents: Crude Protein 53·3%, Lipids 8·2%, Crude Fibre 1·2%, Crude Ash 15%, Moisture 3%.

42g - £6·75
Freeze Dried Arctic Copepod

Calanus finmarchichus. Natural carotenoid rich copepods.
Enhances colour & improves growth rate.

Analytical Constituents: Crude Protein 49·2%, Fat 26·1%, Crude Ash 6·3%, Salt 2·5%, Astaxanthin 400 ppm.

14g - £7·50
Freeze Dried Arctic Copepod Powder

As above. Ground down for a finer grade. Ideal for fry or mixing with other fry feeds with a little water to form paste balls.

Analytical Constituents: Crude Protein 6·5%, Fat 9%, Crude Ash 12%, Chitin 3%, Salt 9·5%, Astaxanthin 400 ppm.

49g - £8·75
Freeze Dried Rotifers

High in Protein. Fine grade for fry or can be mixed with other fry feeds with a little water to form paste balls.

Analytical Constituents: Crude Protein 60%, Lipids 11%, Crude Fibre 5%, Crude Ash 11%, Moisture 8%.

42g - £5·75
25g - £2·95

100g - £9·95

500g - £39·95