Golden Pearl Diets - Imported from the USA.

A specialised feed proving very popular in the USA. Used in hatcheries with marine & freshwater fish & shrimps.
Micro encapsulated granules with tiny air particles. These granules mimic Artemia (Brine Shrimp) & are used to replace this diet in up to 80% of feeds.
Highly palatable & digestible.
Range of granule sizes from 5 micron fry feed (suitable for egglayers) up to 1mm+.
Tests in our fish house on imported fish have been amazing. Wild Tetra's really appreciate it floating in the water column.
This food is destined to be a best seller in our opinion.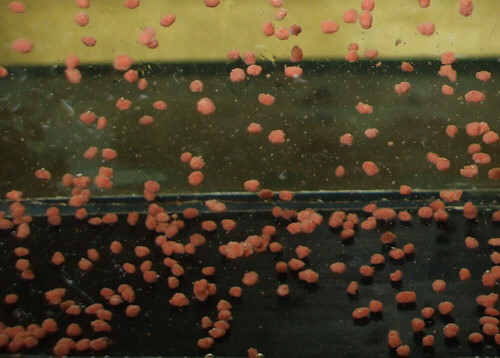 800-1000 grade - magnified - note the tiny air bubbles on the granules.
Looks similar to our Red Astax granule but totally different. Smells really nice too.
grades are the same as the Red Astax granule - grade 2 being 200-300 micron, grade 3 being 300-500 micron etc.
Analytical Constituents: Crude Protein 50%, Crude fat 15%, fibre 2%, ash 20%, phosphorous 2%,
vitamin A 20000 Iu/kg, vitamin D3 4000 Iu/kg, vitamin E 400 ppm, vitamin C 1000 ppm.
Composition: Hydrolyzed fish protein, marine protein, crustacean meal, casein, fish oil, lecithin, yeast & yeast extracts, vitamins & minerals, anti-oxidants.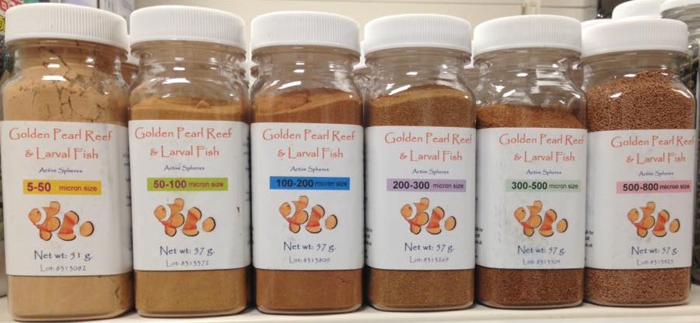 57g containers now available.
Calvin from Oxfordshire says - 'I also mix a little of the brilliant GP food in when I mix up the frozen foods for them and they are still chasing it around long after the
frozen stuff has gone.It really does sit in the water and resemble baby brine shrimp! I only bought it because someone on a US forum said how good it was.
I think you are the only person to sell it in the UK'.

170g Shown in photo

5 - 50 micron

This food is fantastic. We use it extensively...

High attractant quality to this powder. Used in commercial hatcheries (marine & freshwater). A specialist food as these diets stay bouyant in the water column. An ideal food for marine inverts as it mimics plankton.
It is also a useful food for freshwater fish.

I feed this to egglayer fry. I obtained some new Danio sp. & the Rainbow - Melanotaenia parkinsoni. I was only holding them for a few days but they both dropped eggs. As I'm geared up to fry which take newly hatched brine shrimp I had to find a suitable food fast.
Normally I would use Interpet Liquifry but I had none handy so I used this powder by putting some in a bottle top with a little water & stirred it up into a cloudy suspension.
Under a magnifying glass I could see the small fry taking it up. Definately in my list of foods I feed in the fish house.
A little goes a long way & this works out cheap.

50g..... £10·95

Back in stock. Now packed in resealable bags for
longer shelf life.

Larger sizes on request

50 - 100 micron


Suitable for young fish up to 1 cm ( ½" ).

57g..... £10·95

100 - 200 micron
Equivilant in size to our Red Astax Grade 2

Suitable for young fish around 1 cm ( ½" ).

200 - 300 micron
Equivilant in size to our Red Astax Grade 2

Suitable for young fish around 1 cm ( ½" ).

300 - 500 micron
Equivilant in size to our Red Astax Grade 3

We feed this to Guppies, Endlers & wild imported fish such as Characins & Corydoras. Even full size Corydoras take this well.
Used as an Artemia replacement diet in commercial hatcheries.
We feed newly imported Corydoras loads of newly hatched Brine Shrimp & this diet works really well in getting them used to prepared foods.

500 - 800 micron
Equivilant in size to our Red Astax Grade 5

Good size for most community fish around 5 cm ( 2" ).

57g..... £10·95

Currently out of stock

800 - 1000 micron
Equivilant in size to our Red Astax Grade 8

For larger fish of 10-15 cm ( 2-3" ).

Our Snakeheads really go for this food & the growth rate is fantastic.

57g.....

Currently not stocked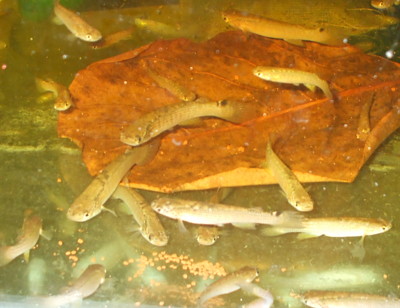 Wild Rivulus taking GP Diet 800 - 1000 micron day after import.
__________ oOo __________