Granular Foods - Spirulina
Many repeated & increased order weights for this granule.
We feed this a lot to our Rifts & livebearers.
This is an ideal way to feed fish requiring vegetable matter in their diet. This is a Spirulina rich diet in granule form with a unique property where granules sink at various speeds offering
fish a choice of floating, midwater or sinking crumb. Eventually all granules will sink.
This granule is ideal to vary the diet of community tanks as the rich Spirulina helps in colouration & disease resistance.
Will not cloud the water.
Analysis - Protein 37%, fat 6%, crude fibre 1·8%, ash 10·1%
Vitamin A - 25,000 IU / kg, vitamin D3 -1,750 IU / kg, vitamin E - 220 mg/kg, vitamin C (stable) - 330 mg/kg.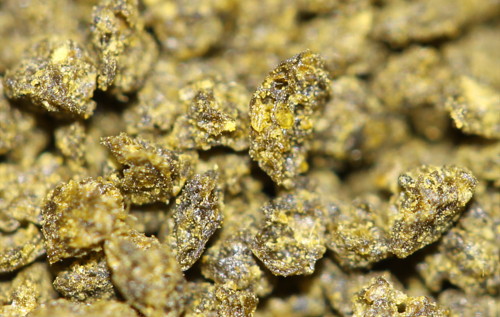 Spirulina granules under macro photography
Grade 5 - 0·5 - 0·8 mm.

If you are feeding a mixed community tank this is the grade you want.

500g - Loose in re-sealable bag
£16·80

1 kg - Loose in re-sealable bag
£29·95

Grade 5 currently out of stock.

Grade 8 - 0·8 - 1·2 mm.

Suitable for fish 3 cm +. Very useful for fish around the 2" mark.

500g - Loose in re-sealable bag
£16·80

1 kg - Loose in re-sealable bag
£29·95

Grade 8 currently out of stock.

Grade 12 - 1·2 - 1·5 mm.

Suitable for larger tropicals (catfish, cichlids etc or coldwater fish).

500g - Loose in re-sealable bag
£16·80

1 kg - Loose in re-sealable bag
£29·95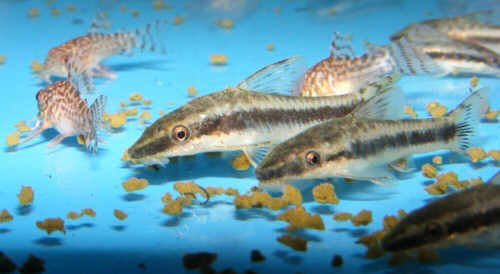 Ste Chester's wild Otocinclus & Corydoras taking Spirulina granule
Testimonials
"Tim recently sent me two packs of the latest granular food to trial in my very busy fishroom, i received the cichlid pellet and the Spirulina pellet in grade 5(Spirulina) and grade 8(Cichlid) both foods have been fed for several weeks and the results have been very encouraging. I run aprox 75 tanks and as well as breeding large amounts of Dwarf cichlids, tetras and catfish i also import rare wild fish and deal with hundreds of thin and hungry fish every month. These foods are readily taken straight away by wild fish, the cichlid pellets are eaten by wild(and domestic) Apistogramma, Microgeophagus and other notoriously difficult to feed fish, the spirulina pellets are used to feed all L - No. plecs plus wild Otocinclus sp, Ancistrus and Loricara sp.. I have never seen wild fish attack a food with such determination! the foods do not cloud the water and when used in conjunction with live and frozen foods the growth rates are superb, all my fish are superbly healthy and constantly have well rounded stomachs.

Many thanks Tim, all the best with the new granular foods from Ste Chester aka STE12000"