Brine Shrimp Eggs, Products & Dupla Eeze.

Click arrow button again to return to English
We sell in excess of £10,000 worth of Artemia eggs (cysts) each year.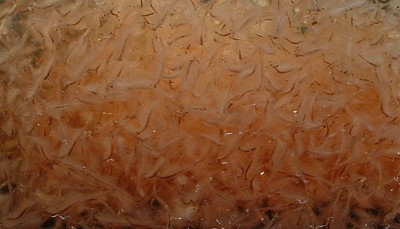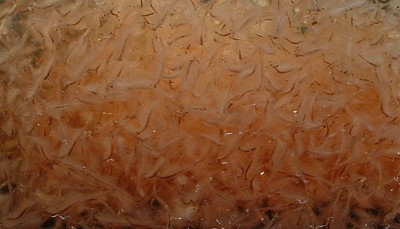 These are Siberian eggs grown on by one of our customers.
We supply - live food growers, commercial freshwater breeders, Seahorse & Marine fish breeders, commercial fish hatcheries for Cod & Turbot.
Professionals use our Brine Shrimp eggs & they wouldn't buy it if it didn't give top hatches.
The secret to raising Artemia - Alan was crazy enough to put this data online..

Ocean Nutrition Artemia Separator

A new way of hatching Artemia

The Separator houses a magnet. The eggs which come with the kit are coated in a non toxic magnetic material. Shells are attracted to the magnet leaving pure newly hatched nauplii without the shells.

Hatch your eggs as normal then pour the hatch into the magnet jar provided in the kit. Leave as many shells as possible in the hatching jar. These will contain unhatched cysts. A further hatching time will usually result in some more nauplii.

Note - Only these specially coated eggs work in this jar.
25g packs are available separately.

Retail price £66
Our price special offer - £60



Eggs harvested from Kulundinskoe Lake

We have currently supplied hundreds of kilo's of these eggs to breeders over the years.
These are the eggs we use in the fish house.
Packed in nitrogen flushed resealable pouches with a human grade preserver.

We have absorbed price increases following our exit from the EU but current falls in Sterling have meant imports have gone up considerably.

50g - £5·75

100g - £11·50

250g - £25·95

550g - £53·25

Artemia franciscana

These are small nauplii on hatching. Great for small fry unable to take larger Artemia.

We find these are the easiest to raise.

Rarely offered due to the high cost of imports.

Premium Grade Eggs

These are superior quality hatching at 90%.

Many of our customers are reporting back that these give a very high hatch rate.

50g - £11·00
Special Offer.
Only £8
Sealed in tubs.

Utah Premium Grade 95%

Best quality hatching cysts from the USA

100g - £20

225g - £40

454g - £75

Waterlife Live Decapsulated Eggs
Can be fed directly from the bottle by pouring through a sieve & rinsing in fresh water first or hatch as normal brine shrimp eggs in salt solution.

Great for small users or as an emergency standby.

100 ml - £5·50

250 ml - £10·99

Pop Bottle Hatchery Base
We are selling these in large quantities. The hatching pouches are no longer packed with these bases.
Just cut the bottom off a clear plastic pop bottle & screw the top into the base.
A cheap hatchery where you can easily replace old bottles.
Ensure thread of the bottle used is compatible - Do not force the fitting.
Full instructions in packet.

£12·50




Decapsulated Brine Shrimp Eggs

Because these are shell less & dried you get a lot more cysts per gram than live eggs.
We get loads of repeat orders for these.
This food is ready to feed to your fish. Being very fine it is easily taken up by young fish. I'm feeding it to newly
dropped guppy fry & Killie fry.
Apistogramma are not known for getting excited over dried food but they come to the surface to take this.
The food will float for a good time although my fish eat it before it gets a chance to sink.
We export kilo's of this stuff.
This food is NOT hatchable - feed directly to your fish.
Decapsulated eggs are higher in energy & nutritional value than hatched eggs as no energy is consumed in the hatching process.
Amino acids, lipids & enzymes remain intact.


Protein - 53%, Fat - 11%, Fibre 1%, Ash 6%
Size 245 µm
Vitamin E 160 mg/kg, vitamin C 550 mg/kg.

150g - £9·50 (Packed in tubs)

500g - £28·50
(Packed in a resealable bag)

Hobby Brine Shrimp Sieves.

I use one of these in my fish house & have done for years (the same one). They last for ages & are easy to clean.

£4·95

Hobby Combination Sieve set.
Contains 4 seperate sieves - coarse, medium & fine ideal for grading live foods.

£12·29
Dupla EEZE - Freeze Dried Marine Copepod (Calanus finmarchicus).
Fantastic feed for young growing fish. High in fatty acids which they need.
100% natural. Size approx 2-3mm. Rich in protein, high content of Omega 3, fatty acids, SDA, EPA & DHA. Rich in digestive enzymes. Natural attractor aroma. Rich in natural astaxanthin. Encourages natural colouration & helps stimulate breeding.
Protein 54%, fat 34%, crude ash 9%.

5g - £5·50

20g - £16·25
Ocean Nutrition Baby Brine Shrimp.

These are newly hatched Brine Shrimp in a jar. Stored in suspension & ready to use. Great back up in case your eggs don't hatch out.

£12·99
Aquarium Systems Hydrometer.

Quickly test water SG for Brine Shrimp hatches.

£13·99
Hobby Liquizell
Liquid starting feed for Artemia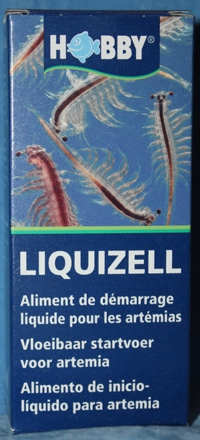 £6·29
_______________________________________________ oo0OO0oo ________________________________________________

See also Brine Shrimp nets on the 'Nets' page & Brine Shrimp Flake on the Food - Flakes.