Pet Animal Act (1951) Licence No: LN/000001786 - Birmingham City Council
Opening Hours
Monday: Closed. Tuesday to Friday 10am - 7pm
Saturday 9am to 6pm
Sunday 10am to 4pm

Licensed to import, package & distribute
animal feedstuffs into
the EC under EC Regulations 183/2005.
Our licence No. GB 402 43.
Licenced to import live tropical fish.
New Fish Section
Click HERE to enter

Dry Goods / Food

Click

HERE

to enter
New Shipment from Guinea now available



Enigmatochromis lucanusi Fria
Wallaceochromis rubrolabiatus
Wallaceochromis signatus Kolente
Wallaceochromis humilis Fria
Pelvicachromis roloffi Kindia
Pelvicachromis roloffi Kolente
Anomalochromis thomasi
Polypterus palmas
Auchenoglanis occidentalis - Giraffe Cat
Scriptaphyosemion geryi
Poropanchax normani
Pseudepiplatys annulatus
Ladigesia roloffi
oOOOo
To start the year off we are knocking 20% off our retail prices on our range of Ocean Nutrition,
New Life Spectrum & Northfin foods.
International Customers Please Note
Please
e-mail us
for postage costs. Small/light items generally go at UK rate but heavier orders require additional postage.
We will get back to you with a postal charge if needed.
Please note - No order is posted until any additional charge has been paid by the buyer.
*** Rift Lake veggie Cichlids & livebearer breeders ***
We supply our best vegetarian flakes in 1kg & 1·5kg boxes
These are all packed under our own brand name.
We consider these flakes to be the best quality made fresh from the manufacturer.
German made Spirulina 30%
German made Vegetarian
Chlorella/German made Spirulina Mix
Chlorella
All these at £45 for 1kg & £65 for 1·5kg each.
Crazy prices for this quality

Next Birmingham Charity Fish Auction
To be announced - June 2020
Quinton Royal British Legion Club, Birmingham
June 2019 auction raised £250 for the Poppy appeal.
December 2019 auction raised £210 for the Poppy appeal.
Click here for auction page. You can print out a flyer from here.
New High quality foods in from Germany - Soft Artemia Pellet, soft Spirulina Pellet, Corydoras Soft Pellet, Catfish with wood Pellet/Sticks, New Cyclops you just have to try out.
See new page 'Soft Pellet', Brine Shrimp, Sticks pages.
More new flakes in again from Germany. Best quality Spirulina & Vegetable Flakes.
YouTube Channel Log
Click on picture to watch on the YouTube website
If the videos have whetted your appetite why not come over & collect your own.
We are returning to Leticia, Colombia next February. Please e-mail for details.
| | | | |
| --- | --- | --- | --- |
| 1 - Fishing the Rio Tacana | 2 - The Black Lake & km Road | 3 - Tacana Village & Trail | 4 - Rio Pichuna & the Isolated Pool |
| 5 - Tanimboca Reserve | 6 - Calderon Trail | 7 - Boat Trip Up River from Leticia | 8 - Journey to Iquitos, Peru |
| 9 - Iquitos & Shippers | 10 - Boat Trip on the Rio Nanay | 11 - Return to the location of the Red Rivulus | 12 - Return to the Rio Pichuna |
| 13 - Return to the Black Lake | 14 - Colombian Shipper | TA - 1 | TA - 2 |
| TA - 3 | | | |
We import the finest fish foods from around the world. Many are made fresh in small batches.
Our shop & hatchery houses over 300 tanks. Direct importers from South America.
Overseas Postage
Up to now we have been posting out to EC customers via the shopping cart postal rates as for UK customers.
Following recent price increases for overseas mail this has made it impossible for us to continue this.
As from now all orders outside the UK will need to be weighed to work out postal cost.
All orders can be sent tracked if requested. You can get an idea of costs on the Parcelforce website.
For orders outside the UK please e-mail us before placing your order.


We constantly update this website. Changes may not always show if you have downloaded the site previously. It's a good idea to reload or refresh the site each visit. Also deleting your cache history will clean away old versions of this site.
timaddis@btinternet.com
We are registered to pack animal feeds under Article 18 (3) of the EC Feed Hygiene Regulation (183/2005).
Our licence No. GB 402 43.
Weighing equipment compliant with & approved by Trading Standards.We supply Importers, Fish Farms, Universities,
Government bodies & a lot of the UK/EC's best fish breeders..


Join us on our Facebook group page

. This is where breeders can talk about fish they are breeding & anything relating to fishkeeping.
This will open up on the facebook site. Click your back button to return to this site.
e-mail us

Bank rates source: Exchange Rates
Please note this is just a guide. Paypal may exchange at a slightly different rate.


Postal Rates
Up to - £65------- Postage - £3·80
£65·01 - +------- Postage - £7·95
Parcels will be sent via the best service available according to weight. If you require guaranteed and insured delivery for higher weights please contact us.
Package not delivered - On rare occasions packages are not delivered. This can be due to the postman being unable to get the package/box through the letter box or the customer is not there to receive it. They should leave a card to say it is in the local sorting office for collection or with a neighbor. On occaisions they may not leave a card. In virtually all cases of non delivery this is the case.
Please read our terms of business regarding non deliveries
We do not re-send orders until at least 15 days have elapsed from our posting.
If you have not received your order within a reasonable time please let us know.
Please DO NOT raise a dispute with Paypal.
Overseas parcels require an extra charge depending on weight. Please e-mail us.
This includes Ireland (not Northern Ireland).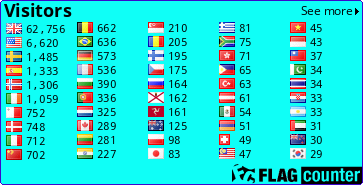 Counter Installed 5th February 2014